Ronaldo trolls the Media & Atletico fans on social media with Style!
The Portuguese laughed off the rumors about his future on social media.
Cristiano Ronaldo has hit back at the many rumors about him from media outlets on social media.
On Thursday evening, Ronaldo responded to a claim over his recent meeting with Manchester United on an Instagram fan page, called 'cristianoronaldoish', by suggesting it was a 'lie'.
"It's impossible not to talk about me one day," he posted in the comments.
"Otherwise, the press won't make money. They know that if they don't lie, they can't attract people's attention. Keep going, one day you'll get some news right. 😂👍"
The rumor itself said his agent, Jorge Mendes, told United that Ronaldo wants to leave. But negotiations were 'less than positive' as the club refuse to sell the player. It added that former Red Devils manager Sir Alex Ferguson intervened.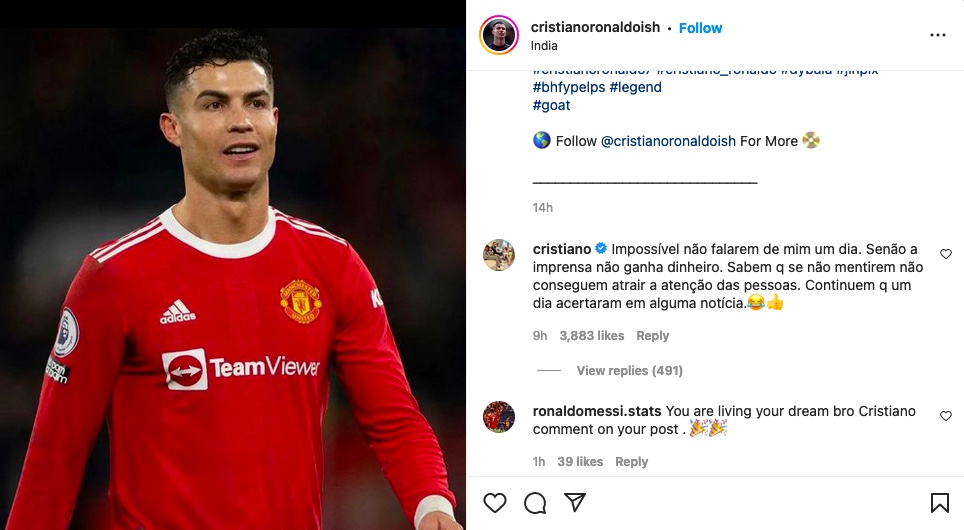 Ronaldo laughs off Atletico fan protests
Atletico Madrid fans have been busy staging protests against rumors of the club signing Ronaldo this week. They've even made banners for the occasion. Some have read 'CR7 not welcome', and others have put 'CR7' in a prohibited sign.
But it appears their efforts were for nothing.
The Real Madrid legend responded with four laughing emojis in the comment section of another Instagram fan page (as seen below) called 'cr7madridy_'.